October 12th, 2012
Our newsletter is now available in PDF form.  Click here to download the latest newsletter.
July 19th, 2012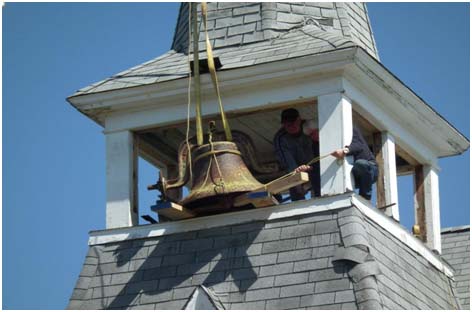 St. John's, 39 Monument Loop, Oyster Pond – Removal of the bell April 2012
St. George's Cemetery News The old fence has been removed and a new fence installed at St. George's Cemetery this summer.  We will hold a service of dedication to welcome the Ostrea Lake Community and dedicate the new fence.  Stay tuned for a date.
The Altar Stained Glass Window – was removed from the church intact, was safely stored for a time, and now will be mounted in a home in this area.  A parishioner made a donation to St. George's Cemetery and this window will be part of a home so that its heritage will live on in our community.
HSTORICAL CORNER            PARISH OF SHIP HARBOUR Did you know?…….
That the story of the Church in Ship Harbour began in the year 1821, with the first visit of the Rev. John Burnyeat, who at that time, was a travelling missionary for the Diocese of Nova Scotia, sent out to find scattered and isolated members of the Church, and minister to them.  It is interesting to note, however, that fifteen years before this time, in 1805, the Bishop of Nova Scotia himself, Charles Inglis made an unofficial call to East Ship Harbour when his ship put into the Harbour for fresh Water.  Mr. Burnyeat reported that there were seventeen families living in Ship Harbour.  Divine Service was held by him for the people in a private home, as there was no church building.
An interesting incident was later told by him of his visit.  It seemed that the head of the household where the Service was held was absent at the time, and returned home, to view with much alarm the crowd of people just as it was dispersing.  He immediately feared that someone in his household had died, and he approached the house with much apprehension and fear, where he found that it was not a funeral, but Divine Service that had been held.  In 1831 the Rev. John Stevenson, the man who had the greatest influence on the people in the days before a resident clergyman, first came to visit here.  At this time he was a professor at King's College, Windsor, and spent his holidays doing pastoral work on the Eastern Shore.
One of Mr. Stevenson's first concerns was to encourage the people in Ship Harbour to erect a church, for the use of the community, as nearly all were Anglicans.  This was begun very shortly, and by 1833 the people had finished their first church, which was located near the old cemetery on the east side of the road a short distance north of the present building.  Its expense was a great burden upon every family, costing four or five pounds each, a great deal of money in those days.  In 1834 the first regular visit of a Bishop was made to Ship Harbour. Bishop John Inglis, the son of the first Bishop of Nova Scotia. He visited several families in the village where there was severe sickness and suffering, and then proceeded to the church.  The new building was consecrated by him, and dedicated to St. Stephen in honour of Mr. Stevenson………(to be continued)…
Outreach program for the Steeple Chasers in 2012:
"All Creatures Great and Small" – This is the focus for the Steeple Chasers outreach program beyond our musical activities.
We are gathering bedding material – blankets, sheets, pillow cases, and towels to be given to "Hope for Wildlife Society".  This organization is committed to the care and rehabilitation of wild animals and birds which have been hurt, injured or abandoned.  We also support the veterinary clinics which are the first responders to these animals or birds.  They are assessed at the clinic, cared for, then go to Hope for Wildlife for further care and rehab. The bedding material helps to give comfort and a soft place for the injured and recovering animals to lie on. No creature is Too Great of Too Small to be cared for with compassion.
We continue to collect used greeting cards and unwanted candles,  which are given to a group of mental health consumers in support of their work.
We thank everyone for their support,                   Lynn Willett
Food Bank Donations July – canned fruit, August – canned milk, September – tomato soup
SUMMER HOURS:  Please note that for the months of July and August, and including September 2, the services for the Parish of Ship Harbour will begin at 10 o'clock.
In Musquodoboit services will be held at 8:30 & 10:00 am during these months.  In the winter months of January and February, there will be only one service at 10:00 am.
A reminder that the next Joint Service will be held on September 23 at St. James Dolby Hill at 10:00 am- it will be WELCOME BACK SUNDAY.
On Mother`s Day, Sunday, May 13, 2012, a liturgical dance graced St. John`s Church, Oyster Pond. Lynn Willett and Bev Fahie, our Steeple Winds did a very inspiration dance
to the song `Can You Imagine`.
The dance was choreographed by Lynn and Bev and assisted by David Willett.
Pictured, after the dance, from left to right are Lynn, Rev. Tricia Ingram and Bev.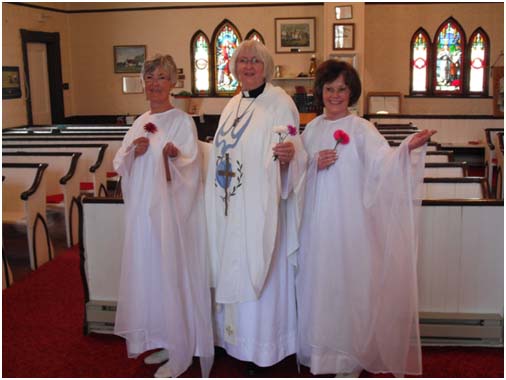 As we go to print –
Plans are underway for our next Joint Service to be held on June 24 at Webber's Camp Ground, Upper Lakeville, at which time we shall celebrate the graduation of our Sunday School children.  The theme for this service is a nautical one.  The children will be very much involved in the activities. Sincere thanks to Robin Webber for the use of Webber's camp ground, Upper Lakeville.
On May 26, a Visioning Day was held for our Parishes. The Parish of Musquodoboit met in the morning and the Parish of Ship Harbour came together in the afternoon.   This session was led by Archdeacon Paul Smith.  Scripture study for the day included Ezekiel 37: 1-14 and Psalm 104. The questions we were asked to consider were: Where do you believe God is calling the church in this place, at this time. – What shapes your belief?  What is your dream/vision of the Church in this place? What would help bring reality to this dream? Where can we begin (i.e. what steps are necessary to proceed)? What then can we define as our "Mission"? What will be indicators along the way of our faithfulness to this mission?  We were asked to respond to the questions: Where Are We?  What is different in your life now, than say 5 years ago, or 2 years ago? What is different in this Parish? What are signs of hope? What are challenges and what would be our prayer to God for change?  A video was shown made by DeWitt Jones, a photographer with the National Geographic. An Inaugural speech by Nelson Mandela was distributed for reflection:
"Our deepest fear is not that we are inadequate. Our deepest fear is that we are powerful             beyond measure.  It is our light, not our darkness that most frightens us.  We ask ourselves,             who am I to be brilliant, successful, talented and fabulous? Actually, who are you NOT to be?             You are a child of God.  You're playing small doesn't serve the world.  There's nothing             enlightened about shrinking so that other people won't feel insecure around you.  We were             born to make manifest the glory that is within us.  It's not just in some of us; it's in EVERYONE!             And as we let our own light shine, we unconsciously give other people permission to do the             same.  As we are liberated from our own fear, our presence automatically liberates others!"
Our mission goes beyond our church buildings – On Sunday June 10, we presented a card, created by our Sunday School children, to Tim Patterson of Webbers Store. This card included names of the parishioners from each of our Parishes expressing regret on the closing of Webber's Store.  As this day coincided with the lobster picnic of the Parish of Ship Harbour, two lobsters were also taken to Tim, it is well known that lobster is one of Tim's favourite dishes. May God's love surround Tim and his family during this time of transition.
On Sunday June 3 a fund raising luncheon organized by the Parish for Danny and Jeannie MacLeod (two very active members of our parish) raised over $1550 and tickets on a quilt (generously donated by Helen Manuel) raised another $1550.  Everyone at the luncheon was incredibly moved as they came together with care and compassion to support Jeannie and Danny during this difficult time.  Our prayers are with the family.  In addition there will be a Variety Show and Bake Auction on July 7 at 7:30 pm in St. James Hall for them.
It was fitting that Rev. Tricia's sermon for this Sunday was taken from the passage of Mark 3: 20-35 where Jesus states, "Whoever does the will of God is my brother and sister and mother".
We live in a most caring, compassionate community – over $7,000 was raised for the Relay for Life run for the Cancer Society.  Well done to all who participated and to all the generous givers.
St. James Hall & Church News:
Busy hands and active minds accomplish wonderful things.  This was very evident at the work day on June 16 when ten caring individuals showed up at 9 am at St. James and accomplished many things.
The Church building was thoroughly cleaned and set up for Sunday services, flowers were planted, steps were scraped and painted, a load of gravel was spread, rocks were removed, holes filled in both cemeteries as well as the railing for the ramp at the Hall completed.
All this in addition to celebrating two birthdays with cake, cookies, brownies, tea and coffee along with fellowship, hugs and laughter.  What a wonderful, rewarding way to spend a Saturday morning!
St. James Hall is truly a "thing of beauty" thanks tour dedicated church/hall mice (of the two legged kind).  Many improvements have been noted and are truly appreciated.  Thank you.
St Thomas News:
St. Thomas held a very successful Fashion Show and Luncheon on June 9 at the PYC.
The front doors, which were very poor fitting, have been replaced with insulated metal doors and new entry carpet has been installed.  We are still looking for donations to help with this necessary cost.
The vinyl siding on the church has been cleaned.
The grave yard crew have been repairing grave stones and levelling out graves.  Thanks to them our cemetery is in excellent condition.
The steps, etc. have been repainted and painting the trim around the front door will be repainted as time permits.
The shed will soon have new plywood exterior covered with vinyl siding.
NOTE:            The old church doors are solid oak and in relatively good condition.  We would like to sell then to someone who could use them.  Please contact Rev. Tricia 889-3098 or one of the wardens, Henry Bowers or Harvey Doane.
VACATION BIBLE SCHOOL:  Tuesday, July 17, 9:30 – 11:30 am, St. James Hall
Children 3 and up are welcome.   Come for a morning of fun!